SoundCloud Meetup in Cork – November 17th, 2010
November 1, 2010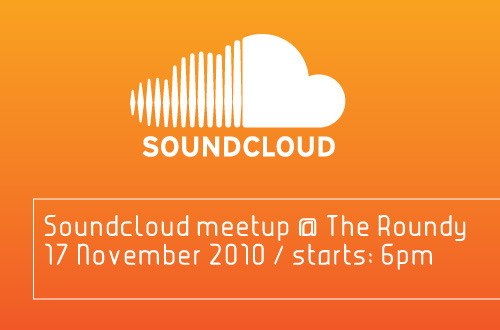 Following the Dublin Soundcloud Meetup success, we've decide to have one in Cork.
The purpose of the SoundCloud Meetup is for fellow users to meet in real life. We think that it is a great opportunity for sharing ideas, networking and meeting like-minded people. If you are musician, DJ, label, or simply a listener, you are invited to come over ;-)
When & where:
November 17th, 2010 @ The Roundy
(1 Castle Street, Cork)
6:00 to 8:00 pm
Show your interest here:
http://www.meetup.com/Soundcloud/17468/
Become a member of the SoundCloud Cork group where you can upload your work for all to have a listen:
http://soundcloud.com/groups/soundcloud-meetup-cork
Looking forward to meet you all!
P.S. Afterwords, the CTRL ALT DELETE night is on, live electronic music from local producers – Door: €5
The Casanova Wave – http://soundcloud.com/fuzzbrian
The Karman Line – http://soundcloud.com/the-karman-line
Stellifi Soundsystem – http://soundcloud.com/stellifi-soundsystem
The Electric Foxx – http://soundcloud.com/theelectricfoxx
Spekulativ Fiktion – http://soundcloud.com/spekulativ-fiktion