Successful SoundCloud Meetup in Cork
November 18, 2010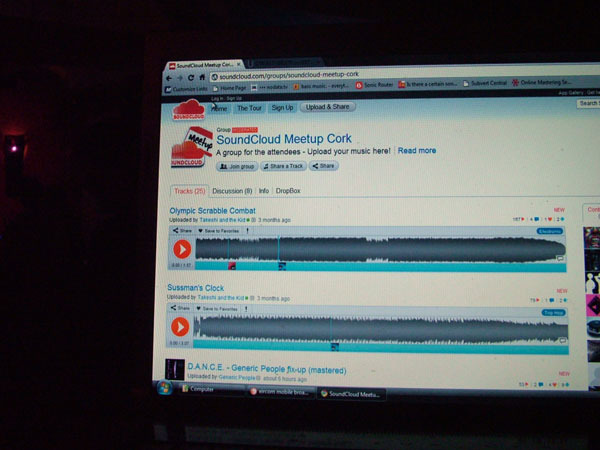 This is it! We've done it! Cork held it's first SoundCloud Meetup @ The Roundy last night.
What a night! First of all a big THANK YOU for all who attended. It is great to see that people are showing interest in this kind of sharing/networking night. In these times of doom & gloom in Ireland, I believe that the art is a crucial piece of the puzzle for getting people together and keeping everyone sane.
During SoundCloud Meetup, we played tracks that were uploaded to the group page; from the artists that attended. Some of you expressed a desire to have some short talks about using the online tools that bring awareness to the work and create revenues. I took all of it on-board and next time around I will plan it accordingly. I hope you all made great connections! And feel free to message me with any comments and thoughts.
After the SoundCloud Meetup, the CTRL ALT DELETE was on. I can tell you that I was impressed by the amount of talent there was on. What a feel and dynamic that live eletronic music can give. The producers' instrument set up was remarkable. The quality of musicianship was splendid. Here are the acts that played last night:
The Electric Foxx – http://soundcloud.com/theelectricfoxx
Spekulativ Fiktion – http://soundcloud.com/spekulativ-fiktion
The Karman Line – http://soundcloud.com/the-karman-line
The Casanova Wave – http://soundcloud.com/thecasanovawave
Also, the CTRL ALT DELETE event was broadcasted & recorded live online by Generic People. It was great to see so many people, who couldn't attend the gig, log in, watch and listen. Some of them in Belgium and UK. I'm glad that the live broadcasting online facilities are used for that purpose. Of course, being at a gig and watching it are very different but at least the fans that couldn't attend had the opportunity to hear the music and for the producers to be heard across the world. Great job Generic People. You can watch it again here
Once more, thanks to all and see you next time!
P.S. I don't have pics for Spekulativ Fiktion. If anyone has any, please send them over to me and I will post them with credits.