SoundCloud Global Meetup Day – February 9th, 2011
January 17, 2011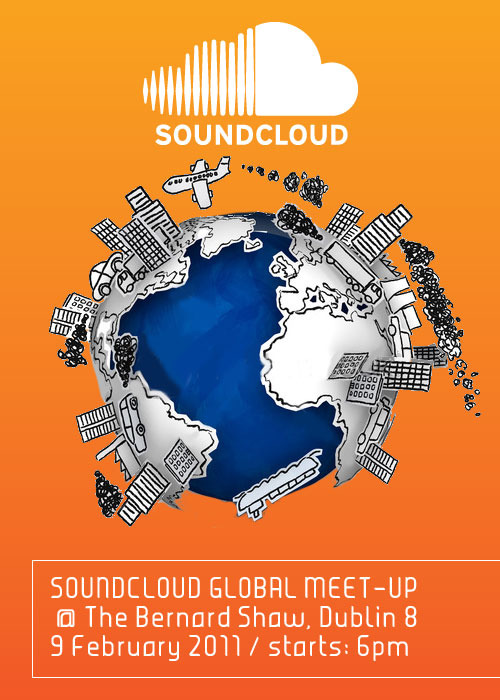 This is it! The 2nd SoundCloud Global Meetup day is on February 9th, 2011.
All SoundCloud users and enthusiasts are invited to join a creative journey around the world. The idea is to show the world that the SoundCloud community is the largest community of sound creators on the planet! We will be hosting the Dublin one :-)
What does that involve?
Creating memorable sounds during the event: a club-stomping track, a podcast, field recordings from that night, some sound effects or interview other SoundClouders about their SoundCloud experience, etc. Or simply join us for the experience, meeting other like-minded people and be part of a very unique event.
How will this work?
Bring along your equipment and use sound and music-making apps such as these:
KORG iMS-20 – an awesome analog synth studio for the iPad
Freestyle app – write and rhyme on-the-go
improVox – turns your voice into an expressive instrument with real-time pitch correction and harmonization.
NanoStudio – a virtual recording studio for iPhone and iPad
AmpKit – iPhone guitar amp and effect studio
See more …
And show your interest on the Meetup page, tell us what equipment you would like to bring.
http://www.meetup.com/Soundcloud/Dublin-IE/25813/
Where?
On the double decker 1978 Gardener bus located in The Bernard Shaw beer garden.
What more of a creative environment can this be ;-)

Become a member of the SoundCloud Dublin group:
http://soundcloud.com/groups/soundcloud-meetup-dublin/
Share it with all your friends and bring them along!
If using Twitter, the hashtag is #scmeetup
It's going to be memorable!