Get to know Kuky Tala aka Tigermilk
February 1, 2011
Less than 2 weeks ago, I did a Follow Friday Feature with artists that I liked but I didn't find much information about them. One of these artists was Tigermilk. After reading my post, she genuinely offered to answer any questions that I had. I would like to share her answers with you.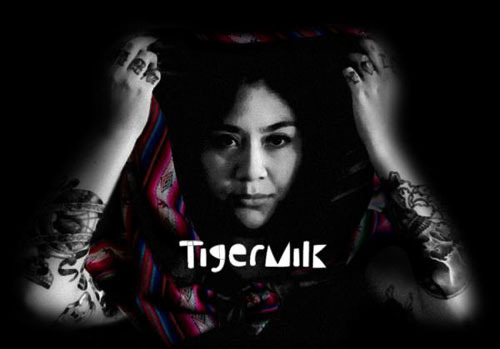 Where are you from/based?
I'm based in Chile but when I started my project I left the country and I recorded some stuff in Rome, Italy, but I came back to my country and am living now in Santiago, Chile.
Who is Tigermilk?
Tigermilk is Paulina "Kuky" Tala…. just me. I do the recordings, all the vocals, instruments and I used to make the mixing till this new album that is mixed and mastered by other people.
What's the origin of the name?
About the name… one day (after The Departure was done) I decided I needed to find a nice name…. I started looking for album's names from bands I like…. I found Belle & Sebastian's Tigermilk album name was a really nice name for a solo project… but maybe I'm wrong, lol.
What genre of music do you consider your work to be?
I think is melodramatic popular song with some experimental arrangements
What is your music background?
My music background is more like new age, alternative ethereal music such as irish music, I like some indian percussions as well, but mostly music that came from Europe (specially UK) in the 80's and 90's.
Who are your major influences?
My major influences in bands are The Cranberries, The Cardigans, A Camp, Bel Canto, Cocteau Twins, Peter Gabriel, a many many more… but those are big in my life.
Where have you toured/performed?
I've never toured, I haven't play live but once…. a small gig with some classical musician… pretty cool experience cause we had to make some classical arrangements for cello, violin, flute to play my songs differently…. sadly we are not still working together and i'm making a new band to present my new work.
With who have you played with?
I've played with my band only once, but i've been offered to play many times, but I didn't accept cause I was without a band and I don't like playing me and the guitar…. i like playing with a band and backing vocals…. so i've decided to be friend with new technologies and will start playing with a few people soon.
Do you have any upcoming shows?
I don't have upcoming shows…. i might be doing some radio's acoustic sessions soon I hope.
Where are you fans from?
My fans are mostly from Europe and USA, people from Britain specially write me to myspace inviting me to play in their countries and asking me where and when will I play….. and I hope I can make it soon as well.
How do you write and produced your music?
I mostly have all set up in my mind. The i start recording one track at the time. For this album I decided to work with people I admire…. so I asked Nathan Larson from A Camp to mix my new song Talátur, which is featured by Paul Arnusch (a canadian musician) on vocals. The song was recorded with one mic by me in my homemade studio in La Serena, Chile I made all the takes with a Shure SM57, then I asked Paul to record in his studio the male voices, once the song was finished I made the pre- mixing.. then I asked Nathan and he accepted inmediatly, once the song was mixed I asked Tom Biller (who has previously work with Warpaint, Karen O, Beck, etc) to make all the mastering for the entire album and he accepted… I think I will stop working on my own, I enjoy other people can have opinions and make sound differently my tracks.
What inspires you?
I love the sound of the waves, I love landscapes, I love travelling a lot, I love desert… I don't know if they inspire me but i feel enchanted watching and staring at sightseeings, but I think if I was in a cage underground with no light at all I would make music in my mind anyway… I think my music interest is more mental than an influential thing.
What do you think about the social and digital media shaping the music industry?
I think digital medias are everything right now. Nowadays I don't buy papers, it's bad for the environment and for my wallet too. lol… everyday- early in the morning- I read different papers from all over the world… and that's great. As for social networks it is greater, I like twitter a lot. I think internet has been damaging a little the sales of major labels but also for little unknown artist is great to have the opportunity to be promoted internationally just making a click on the computer. The artists are in charge with their career. You can do whatever you want now, really!.
What is next for you?
Next is to go touring around the globe and record my new album, I have all these songs in my mind i want to share as soon as possible.
Anything else you want to say?
Next… I want to go back to Ireland, lol