SXSW 2011 – Sweet Jane
February 28, 2011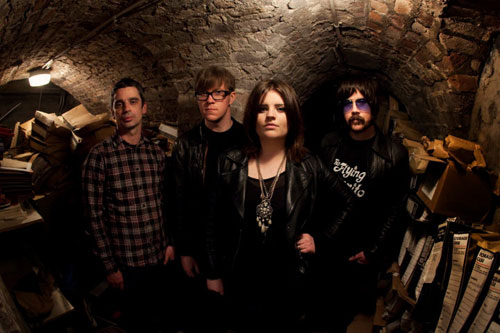 Haunting echoes wrapped in a velvety silk glove. This is the first thought that enters my mind as I listen to Sweet Jane.
I'm reminded of sounds of the late 80's/early 90's dream pop bands which is not to say that their music is dated but rather a welcomed walk down memory lane, inspiring me to search for my old albums that I have not listened to in years.
However Sweet Jane is more upbeat and hopeful than its predecessors. More rock than grunge, more folk than new-age. To compare them to any one particular group would be difficult and perhaps not important. Although it's always interesting to recall melodies and feelings from two decades ago caused by an up and coming 2011 band!
What was your reaction when you found out you were going to showcase at SXSW?
Really happy. We are all big fans of the SXSW festival, and some of our favorite bands have played there, were discovered there. It's really one of a kind, we've all been at some stage over the years but with our band. We were all shivering in a tour bus when we found out we were going. Bring on the sunshine!
What part, if any, has social media played in the progress of your career?
A whole lot. I mean when we started this band, the first thing we done was set up a myspace so that we could send some of the track we were recording at home to friends. We're a new band, so we obviously don't know what it was like for bands before us in terms of launching yourself without the Internet. We've definitely been given some awesome opportunities through people finding out about us on a blog or through our tracks streaming on different websites.
With the coming release of your first UK single, on February 28th, what do you hope for?
I think with every release, you just hope that people enjoy it. When you release an album or single you are pretty much letting go of it there and then, its in the hands of the people that listen to it, they own it now, illegally own no doubt [laughs]
But in all seriousness we're a new band, so right now, we just want to people to hear us, whether they like us or not is irrelevant, we just want them to listen and then decide. It's about exposure.
At the end of 2011 you are planning the release of a new album. Have you already started to work on it and what should we expect?
We are, we've already released it in Ireland last summer, so the strategy was that we release at home first, and then move on to the other territories, we're really lucky that we've been able to do that. We just signed a deal in South East Asia which was bizarre, but y'know we're really proud of 'Sugar For My Soul', with every song or album its wrapping up the past year or two y'know, its almost like a storybook effect, music is the storyteller.
Three words to describe each one of you?
For fear of looking like total dickheads, we all picked each other to describe.
Danda – Reverb, Tremolo, Fuzz
Lydia – Lion, Loud, Roar,
Donagh – The Beat Man
Ruairi – Totally Fucking Mental.
Website | SoundCloud | Facebook | Twitter | Breaking Tunes