SXSW 2011 – Halves
March 14, 2011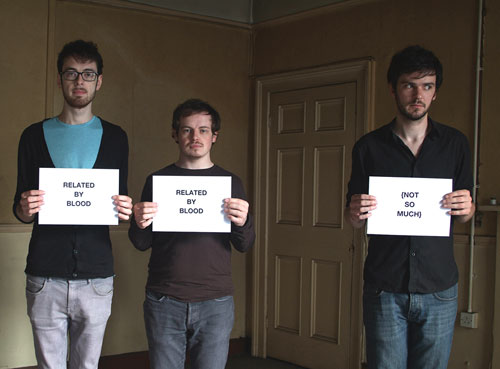 I really like their sound. A mixture of eerie and nostalgic moods that bring you into an aural depth and beauty created with a vast range of electronic and acoustic instruments.
There is a rare sense of equilibrium to this record; from the blood quickening title track to the bruised heard tenderness of 'Amberscene', all is lovingly thought out and executed. In fact, for all their celestial ambition, you'll be hard pressed to find a single superfluous note." – AU magazine

'It Goes, It Goes (Forever & Ever)' – Singles by halves
It is going to be your second time performing at the SXSW. How does that feel?
Feels great…To be honest last year was a little stressful as Elis from the band landed himself in hostipal days before we were due to fly over so we had to get our good friend James from 3epkano to step in. We had fun but I think our confidence was down a little. This time we will bring some form of noise.
Why did you choose to record your album in Montreal at Hotel2Tango?
We love Canada first and foremost. Also we just felt it would be nice to record outside Ireland in a studio that had amazing equipment and that recorded on tape. Hotel2tango has a lovely ethos and it was just a pleasure to be there for 2 weeks. A very happy time for us and we hope to return.
You seem to have enjoyed recording the album "It Goes, It Goes (Forever & Ever)". What is your most memorable part?
I think once we'd settled in and we got familiar with the staff in there and their dogs. Each night it was nice to open a beer or two while we listened back to that day's work. Walking home we'd be surprised at how good the songs were sounding but maybe that was the beer talking.
You have released your album on CD and vinyl. Why on vinyl?
Things have changed dramatically in the last few years with the whole downloading thing. We admire the format very much…it sounds fantastic and having the artwork blown up looks great but mainly it's a very rewarding thing to own I guess. Personally I find cds very annoying and flimsy. We arranged the record in advance to be divided into three parts to fit on three sides of vinyl. The fourth has the lyrics etched onto it. Fucks cds.
Three words to describe yourselves?
Ambitious, Broke, Halves
Showcase:
March 17th – Venue: Friends
March 18th – Venue: BD Reilly's
Website | Blog | SoundCloud | Facebook | Twitter | Breaking Tunes