SXSW 2011 – Kormac's Big Band
March 16, 2011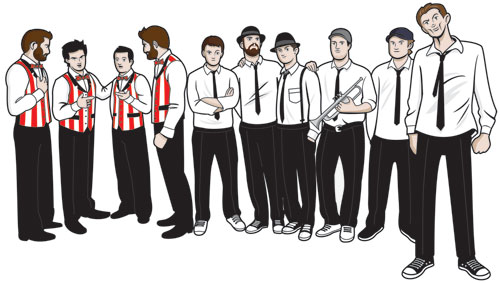 This is a very unique band, an 11 piece orchestra – quartet singing harmonies, double bass, trombones and trumpets over hip hop and breakbeats tracks. They are great. I love the mix of 30's-40's feel with the modern sounds.
"An 11-piece orchestra playing Kormac's tracks. A mix of live turntables, samplers, drums, double bass, barbershop quartet, trumpet, clarinet, banjo and live visuals."
What was your reaction when you found out you were going to showcase at SXSW?
We were really pleased. It's not often you get invited to Texas
How did they idea of a Big Band came about?
It developed slowly to be honest. I started off inviting Conor (double bass) and Simon (drums) to help me perform some of my tracks on stage. As the gigs started to get a bit bigger, I started to add in various things I was into. I wanted each show to be bigger and better. I simply kept adding elements/sections that I like. I want the big band to evolve constantly so I'm always making changes.
Being an 11 piece orchestra, getting everyone together to rehearse must be challenging?
You don't know the half of it! Next….
What part, if any, has social media played in the progress of your career?
The nicest part of it is that it allows people who are into the music communicate with me/us directly in a relatively open forum.
Three words to describe yourself?
Tall. Skinny. Tired.
Website | SoundCloud | Facebook | Twitter | Breaking Tunes