FFF: The Karman Line
April 1, 2011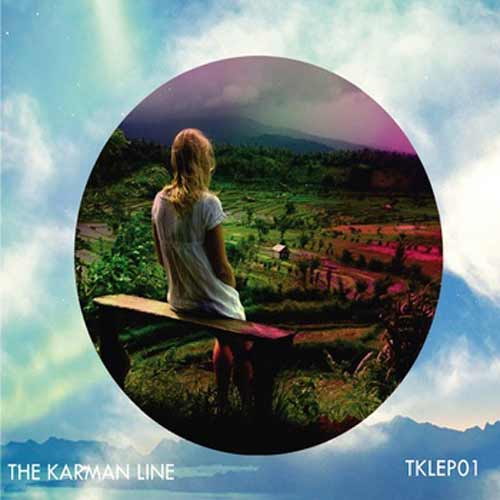 I first saw The Karman Line live back in November 2010 and featured them on my Follow Friday blog. When I heard that they were releasing an EP, I couldn't wait to listen to it. I wasn't disappointed. Their synchronicity is remarkable. They are guiding the listener to great depth and true aural experience of well maneuvered mixed synths, pads and sound effects. This album has to be listened to on big speakers. The CD is for sale on Bandcamp. Also available is a digital download – no minimal amount required but give them a few quid. It is worth it.
Here are a few questions I've asked them:

How did The Karman Line started?
We met in college, both of us were doing Computer Science. We seemed to like the same music and started talking about doing some producing together. Jack was in a band at the time and when they split up we decided to give it a go. The band went through many name and style changes over the years, but we finally seem to have a sound we're both comfortable with, so the time is right to release an EP.
What is the story behind the name?
The Karman Line is a scientific term – it's the boarder between the Earth's atmosphere and space. When someone passes this line, they are officially an astronaut. It doesnt really have any significant meaning to us, other than a nerdy interest in astrophysics, although we do joke about it being a drug reference. Just say no kids.
Do you always produce your music together in one studio or you do some work separately?
We work seperately. Technology has made it really easy to collaborate with people without actually physically being in the same place. We send tracks and stuff back and forth over email. There have been a couple of times where we've sat together to write stuff, but it tends to get muddled. Playing live is different though – we do get together before gigs and put it all together. Thats probably what we enjoy the most, especially when we have the visuals up and running.
Who's good at what in the creative process?
I wouldnt say either of us are better at anything. Jack has a better ear for harmony and melody and I prefer to work with the rythym side of things, but its definitely even as to who does what. When gigging, Im using Ableton and Jack is playing parts of tracks live. I also control the visuals and fire them off in time with the music.
Who else would you like to collaborate with?
We've done a couple of tracks with the lads from New Mind Line which we havent done anything with as yet, even though they're really good tracks. We'd definitely like to do something with them again, their lead singer Jai has one of the best voices in Cork. We're also looking to do a track with Debbie Hayes, who sings with the Electric Foxx. There's a plethora of producers around Cork at the moment who we'd love to work with; Coherx, Laserface, Aodhgan, but everyone is doing their own thing, so it's hard.
Any groups you particularly like?
At the moment we're listening to a lot of more glitchy hip hop stuff like Baths, Jamie XX, Dorian Concept and Hudson Mohawke. We listen to a lot of alt rock bands like Grizzly Bear, TV on the Radio, Real Estate – mostly hipster American stuff that gets frowned upon because of the people associated with it. People like The Chemical brothers were obviously a band we grew up with and continue to influence us, as is Orbital, Leftfield, FSOL, Boards Of Canada. We also both have an unhealthy obsession with Radiohead and the Beatles. Im listening to a guy called Decentfolk from Cork that's playing the next Modulation right now and its quality stuff.
What is next for The Karman Line? Do you have plans to play at music festivals and touring this summer?
We're playing Indiependence again this year – hopefully on a bigger stage late on in the evening. There's also talk of doing something for Kinsale arts week and the Cork Midsummer Festival. Hopefully we should get a few more festivals though, so we'll let you know!
Bandcamp | SoundCloud | Facebook | Twitter