It's that time of the year – Music favorites 2011
December 16, 2011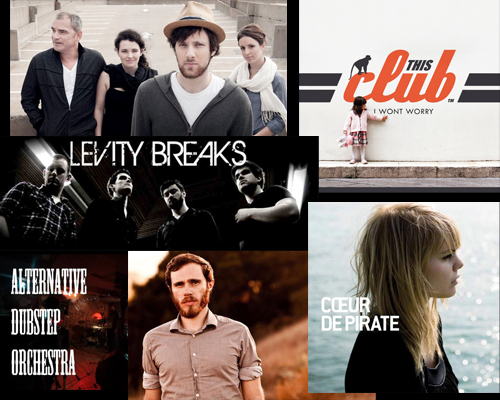 This is it, another year is coming to an end. Where did it go? Loads has happened and plenty more is coming. I'm really looking forward to continue in the next year. In the meantime, I long for a much needed break… to refill my energy, my mind, my soul and rest my body.
Let me share with you my personal music favorites that in one way or another made an impact on me in 2011.
Ever since I heard him, I'm was hypnotised by his music. His album is regularly played in my house. What a gifted artist. He reaches souls in a mystical way. I hope to get to see him live next year. Thanks James for opening your soul to us by producing this meaningful music.
Here is an acoustic version of "This Old Dark Machine" – Soul Kitchen
Website | Facebook | Twitter | YouTube
"I Won't Worry" – Do I have to say more? Perfect for one of those days we get sometimes :D
Website | Twitter | Facebook | YouTube | iTunes
Every time I listen to Will Driving West, it takes me to that emotional space but yet composed and calm where you just feel, you are just now, in the moment. I'm a huge fan and I never get tired of listening to their musical "poésie". Merci Will Driving West!
Website | Facebook | Twitter | Bandcamp
They stood out for me because of the quality of their first single, artistically and technically was quite impressive. These four guys have been in the music industry for a while now. They decided to come together to form a band. I do believe these guys are going to make it to the big leagues. 2012 should be an interesting year for them. Rock on Levity Breaks!
Website | Facebook | Twitter | SoundCloud | Bandcamp
Where I come from, Québec, everyone knew her. I didn't! It was such a delight to discover her. She is a master with words creating rhythms supported by powerful melodies, it's magic. As an artist, she is open, honest and truthful. Have you seen her drawing skills? Worth checking out her instagram where she shares her drawing inspiration. Merci Béatrice de partager ton âme avec nous.
Website | Blog | Facebook | Twitter
Alternative Dubstep Orchestra – @ADOcollective
Dubstep Orchestra, what a band!! They are an 'experimental' collective of Birmingham based musicians and DJs. They don't have album out but every month they play live at "The Honey Club" where they rework classics in a dubstep sound. Phenomenal.