#quitmyspace – To do it or not?
October 25, 2010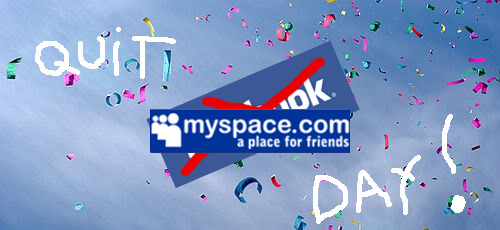 A year ago, Andrew Dubber wrote a post on Music Think Thank about why Myspace isn't working and giving them a year to sort themselves out. If not, October 24th 2010, it is Happy 'Quit Myspace' day. Read more
Well the date has come (and past). Here is what he has to say:
Myspace now with Glitter  – The times has come its 'Quit Mypace' day
Here is what I think about it:
Should you quit Myspace or not? Only if you it feels right to you.
Would I do it? No.
Why? I still use it for connecting with bands and discovering music.
Is it my main profile? Obviously not.
Do I spend much time on it? Of course not.
I don't like the interface, I don't like the system, yes it is old and very hard to manage. You can see on my own Myspace page, I don't use their player but integrated the SoundCloud one. I do want to let it go. Read this post I've written about it. But I still use it to reach people and when I need to share something, I get good response from my Myspace friends. For me, that is valuable. The contacts I have made and still making are valuable to me.
I agree, there are far better engines out there but they all form part of your online strategies. All these sites, Reverbnation, LastFM, iLike, BandCamp, Facebook, Twitter, YouTube, Vimeo, SoundCloud, etc, have their own set of functions that you like or not. You might decide to only use Vimeo instead of YouTube, you prefer Reverbnation to iLike, etc, These decisions are part of any online strategy: who, how, when and where an artist/band can reach its audience.
This is my personal opinion and I'm not suggesting here that people stay or not with Myspace. Myspace have so many 'users' because they were first-to-market; and that's not a testimony to the usability of their system. Web culture evolves so quickly though that, if Myspace don't show more innovativeness in how artists connect with fans, they will continue to loose their leading position.
I will be curious to see stats on how many people did 'quit Myspace' on the 24th.
Here are what others have to say about 'Quit MySpace' day
Steve Lawson – @solobasssteve – http://www.stevelawson.net/2010/10/why-i-quit-myspace/
Mick Bordet – @MickBordet – http://www.mickbordet.com/2010/10/so-long-myspace/
Andrew Derrick – @andyderrickmus – http://andyderrick.co.uk/
Mr Tune – @mrtunes – http://mrtunes.ca/blog/432/why-you-don-t-have-to-quitmyspace-today/
A New Band a Day – @ANewBandADay – http://www.anewbandaday.com/2010/10/we-are-animal-are-on-myspace.html
Wayne Myers – @conniptions – http://conniptions.posterous.com/i-can-quit-myspace-any-time-i-like