FFF: Little Things That Kill – El Hombre Jokes – Dub FX – Zee Avi
October 29, 2010
Little Things That Kill – @lttk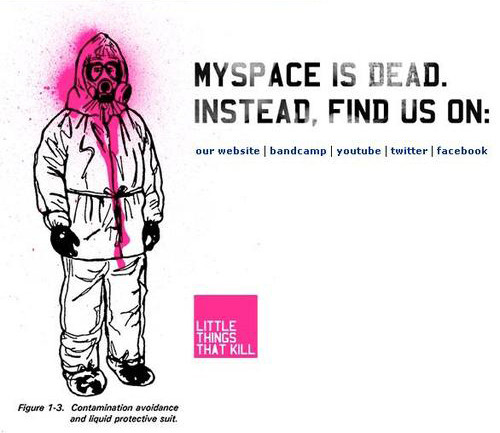 What an irony! Sunday, October 24th, 2010 was #quitmyspace day by Andrew Dubber. I wrote a post "#quitmyspace – to do it or not?" sharing my thoughts on the subject. And here is a band I basically discovered because of Myspace ;-) They had a very productive response to the whole thing. On their Myspace profile, they have one image on the basic Myspace layout stating "Myspace is dead instead find us on… linking to all their other social media profiles". That's clever. They don't use Myspace but still acknowledge that people might find them on it. They have one song up, that was enough for me to know if I like them or not. Which I do!. Really good indie band from Amsterdam. Great songs and production. Worth buying!
Last weekend, it was the Cork Jazz Festival in Ireland. I went out with the family in hopes of hearing some street performing jazzers. Well, we got served. There they were, El Hombre Jokes on Grande Parade, with their drums, bass and electric guitar bringing funk to the passers-by. The synergy between the band members was great. Here is a YouTube video of a granny enjoying the music.
Wow. Love him! The vocals, the beats, the rhythm, the sound. He is a beat-boxer / street performer from Australia that uses fx pedals to create sounds that he layers to build this genius musical ensemble. The recording material sounds great. Watch this video to have a glimpse at how his live performance is phenomenal (Thanks Martin for sharing!):
I discovered Zee Avi through a friend of mine in Québec. We have been doing this thing where once in while we exchange links of artists we like. As soon as I hit the button play, I immediately loved her. Love the kindness and tone of her melodic voice. The music is stripped back. It's her voice, acoustic guitars and brushed drums, very intimate recordings. She is Malaysian and was living in Kuala Lumpur when she posted her music on YouTube which was featured on the main page where she was discovered by Patrick Keeler of The Raconteurs. We are now living in a small world.