SXSW 2011 – Oh Ruin
February 26, 2011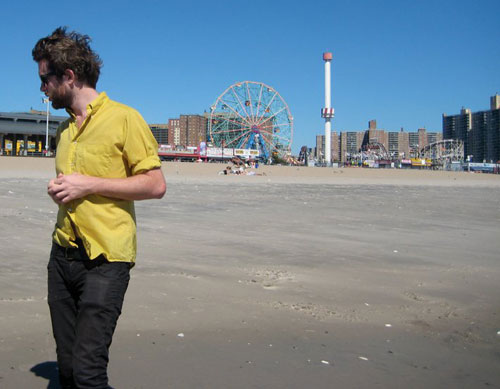 "Crooning tales of childhood mischief and the first sweet stings of love, combining stomping blues with campfire quiet troubadour tunes. A little loose, a little rough around the edges, with melodies borrowed from old Irish folk songs, and stories set to intricate finger picked paeans. While honing his song writing craft, Eoin's been learning the art of the luthier, making the guitar he now plays."
What was your reaction when you found out you were going to showcase at SXSW?
When I first found out about doing SXSW, I was very excited and slightly anxious. It felt like a big muddle of organising and sorting out that was gonna have to be done….which aren't my strong points. Turned out it wasn't too bad though, we managed to get most stuff together somehow, so its just exciting now, gonna be loads of fun…ahem, and hard work too.
Any plans for an album release? If so when?
I've had a short album ready for release for some time now. Looks like it'll be coming out in the late spring around Europe and hopefully by the summer in the US. Been talking to some nice folks at a few lil labels there who are keen, so thats really good news. It'll be good to have it released, it kinda starts to hang around like a bad smell if it takes too long to put it out, and you start to second guess yourself and the record. So it'll be nice to move on from it to new material.
What part, if any, has social media played in the progress of your career?
All that stuff plays a big role in things. Whether you want to or not, you have to get involved. Especially in the early days of a band. Breakingtunes, for example, put me onto applying for funding from Culture Ireland to help us get to Texas, so that was a huge deal. Then theres the self promoting stuff through Facebook and Myspace…but its been on the wane for a while now. If people like the music its easy for them to spread the word around to friends through all these sites, which is great. So as soon as you have songs which you upload, they're essentially available to the whole world, which is a bit of a weird one.
What's next for you after SXSW?
I'm heading to LA right after for a few gigs, then home. The record will be out fairly soon after I get back, so there'll be more touring to be done and some festivals too. I want to get started on the next record as well. In my head its almost ready to go, so I'm itching to get going on it.
Three words to describe yourself
Bombs Over Baghdad.
Showcase:
March 18th – Venue: 18th Floor Hilton Garden Inn