SXSW 2011 – Funeral Suits
March 5, 2011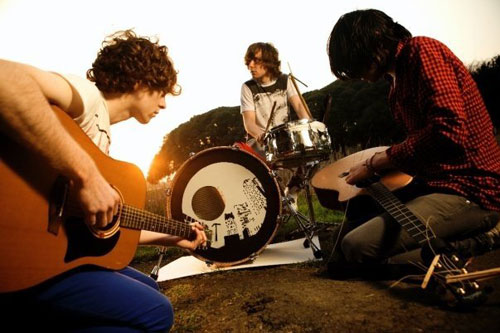 "A shared love of epic, distorted guitars, blistering harmonius pop, art rock and electronica led to the band spending the best part of two years holed up in a disused office space in deepest North County Dublin, writing, rehearsing and at times venturing out to play as special guests to Franz Ferdinand, Passion Pit, The Maccabees, Local Natives and The Breeders amongst others.
More recently they have just recorded and finished their debut album with acclaimed producer Stephen Street (Blur, The Smiths) which will see the light of day some time in 2011."
What was your reaction when you found out you were going to showcase at SXSW?
YYYYESSSSSSSSSSSSSSSSSSSSSSSS!!!!!!! SXSW is something we've wanted to do for ages. we can't wait. lots of our favourite irish bands are heading over too, so it will be nice to experience the festival with them. I'm looking forward to waking up with Lydia from Sweet Jane in a fed-ex truck and watching homeland security take care of Adabesi Shank.
What made you decide to work with Stephen Street (The Smiths & Blur) and how was it?
Stephen is great. the record is out of the oven, but its tastes better when you let it cool. we cooked it at gas mark 5 for a whole year. obviously with his history with the two above mentioned bands and many others, we were quite daunted at the thoughts of working with him but it was great. we are really happy with how the record is sounding, and are excited for people to hear it.
Which influence does each of you have that the rest of the band don't share and where's the common ground?
Well, Greg gets really car sick, Brian has emetophobia, and when this emetophobia takes hold it takes a pop at his diggie system and mick doesn't like driving with the smell of shit in the car so he never drives anywhere. the common ground must be that we are all in the car.
What part, if any, has social media played in the progress of your career?
Well, obviously the Internet is as much a part of most peoples lives now as eating breakfast and having a pint. So i guess we use  it like any other band, pushing to get heard any way we can, without leaving our dignity with the paper trail. It's the platform that people want to be reached on. the invention of chat roulette was distracting, it must be said. we had so many masks to get thru, and it takes a while to climb the gimp ladder. we've managed to control our feverish desires to abstain from the evil portal that sings chat roulette into our ears, and make more time for Sunday dinners and walking the doll and buggy. fresh air is king.
Three words to describe yourselves?
Young, free and proud is probably the best way to describe all of us!!
Showcase:
March 18 – Venue: BD Rileys @ 7pm