SXSW 2011 – LaFaro
March 7, 2011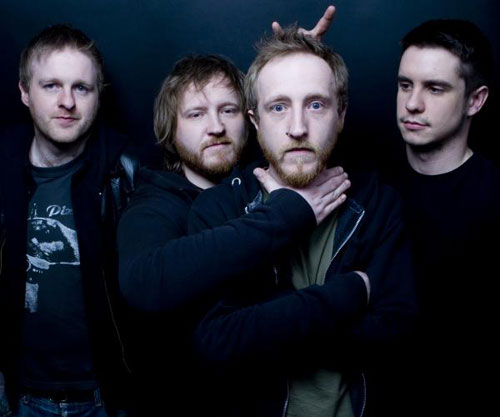 "LaFaro are old school post hardcore sounds with just drums, guitars and big chunky distorted bass and Jonny Black mangling his vocals like he ís got a mouth full of drill bits, believe me, its a good thing." – AU mag
What was your reaction when you found out you were going to showcase at SXSW?
Our reaction was 'How the fuck are we going to pay for that?" But seriously… we're really chuffed and can't wait.
In the music industry, people are saying that "Rock is dead". What do you think of that?
It sounds like the kind of lazy, ignorant and redundant marketing slogan that you might hear in a corpoate board meeting. All music lives in the hearts of the people it affects and only dies when its traditions are no longer carried on. Rock music and its many interpretations are very much alive. A sphincter says what??
What part, if any, has social media played in the progress of your career?
Viral and social networking, together with virtual magazines and blogging are now inherent parts of any working and touring band, irrespective of how successful or well known they are. You can see for yourself how seriously the major labels are taking this approach by clicking on any music site the net has to offer. The whole industry is now geared around television, web exposure and concerts, and social media is the glue that bonds these together. Yawn!
When are you going back into the studio for your second album and what should we expect?
We're just finishing off the second album this week. It should be out in April and we're really happy with it. We've tried to use our energy and sound in different ways, and I reckon it's a wee bit harder than the first one in a lot of ways but basically more of the same shit. . .
Three words to describe each one of you?
Jonny – north country boy
Herb – sex offenders register
Alan – soft fluffy kittens
Dave – one careful owner
Showcase:
March 17th – Venue: BD Rielys
March 17th – Venue: Lattitude 30
March 19th – Venue: 512 Rooftop – 9:00pm – 9:40pm
Website | Facebook | Twitter | YouTube | Breaking Tunes