SXSW 2011 – Adebisi Shank
March 9, 2011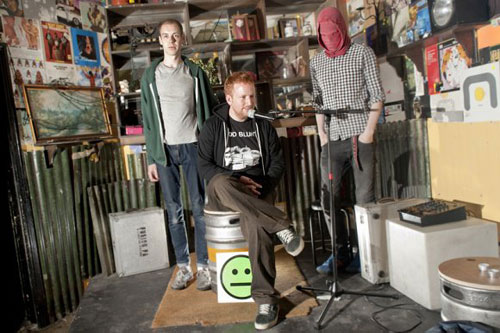 If video games would escape from their human masters and run freely through time and space, Adebisi Shank would play the soundtrack of their new adventures. A highly energized roller-coaster ride of explosive rhythmic riffs, percussion and synthesizers where all the sounds seem to be engaged in a mixture of combat, exploratory recon with some tongue-in-cheek flirting! In brief: a high-octane journey.
What was your reaction when you found out you were going to showcase at SXSW?
Brainfreeze! Then, denial. Then, acceptance. Then, dancing. Then, I ate a Toblerone.
2010 has been an amazing year for you. What was the most memorable moment?
Making friends with the lovely people at Sargent House…Being in Japan again, playing alongside Mike Watt…lots of groovy stuff. This year was bizarrely good. Almost suspiciously good. The Toblerone is pretty high up on the list too.
You are releasing your album in North America on March 15th, 2011. What do you hope for?
World peace and a new Syndicate game.
What is next for you after SXSW?
Next for us is writing a new album and then probably getting back to Japan for a bit. Back the US and then maybe bedtime.
Three words to describe yourself
Jurassic Fuckin Park
Showcase:
March 17th – Venue: Plush @ 3.45pm
March 18th – Venue: BD Riley's @ 4.45pm
March 19th – Venue: Emo's – 7th Street @ 7.30pm
Website | Facebook | Twitter | Breaking Tunes