SoundCloud Global Meetup Day (Dublin) –– 5th October 2011
September 6, 2011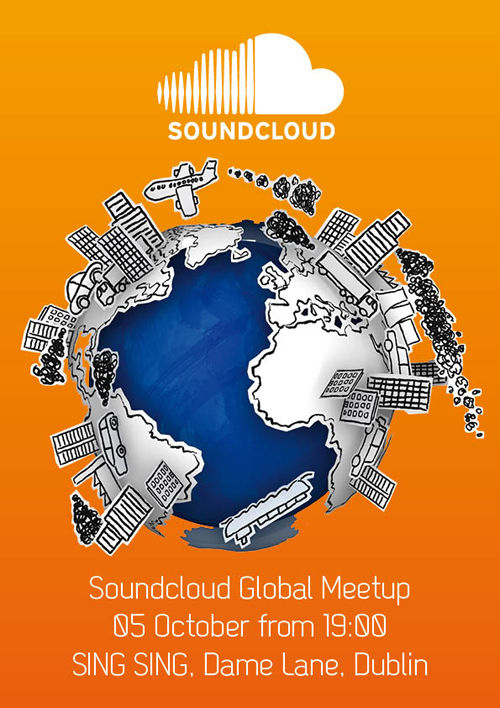 "The Meaning of Sound, According to You"
From Sydney to San Francisco and from Tokyo to Rio, SoundClouders and enthusiasts are invited to join SoundCloud for global get-together.
Every day we encounter sounds that affect us in many different ways. We use sound to communicate, to connect with people all over the globe, to process information, to express ourselves. We create sounds for the same reasons, sometimes explicitly, sometimes implicitly.
We are happy to announced the Dublin Meetup is free and will be hosted at SING SING (beneath Mercantile bar) on Dame Lane starting at 7pm. All producers, radios, labels, artists or simply enthusiasts are invited to join us and share their experiences of sound.
We will host talks about how to effectively integrate SoundCloud with an online strategy, Q&A and performances from SoundCloud users.

"Together they create a mix of different bass vibes, traveling through hip-hop, dub, funk, electro, trip-hop and ragga, along with a hand full of collaborations from Spain to Nigeria."

"New Electronica group TeaTronik combine live instrumentation, vocals and real world sounds with computer generated beats and instruments to create a sound that is polyrhythmic, atmospheric, melodic and organic."

"Barry Dempsey plays varying shades of house, techno and breaks and incorporating cutting-edge technology for the ultimate DJ/live experience"

"Julyo is a music producer and VJ, who, as a solo artist, is best known as the pioneer of 'photosonic music' and the 'brainwave VJing"


For those who can't attend the Meetup we thought of you :D
All the event is going to be streamed live on the internet.
Tune in here: http://www.ustream.tv/channel/soundcloud-meetup-ireland


We hope to see you there or see you online!


Meetup page: http://www.meetup.com/Soundcloud/Dublin-IE/67933/
Twitter hastag: #scmeetup
Facebook event: http://on.fb.me/nSFkXs


Hosted by Limebase & Julyo (Photosonic Orchestra)